The DQ-61 and DQDX dash remote LEDs have a number of different configurations depending upon what mode the knob and the unit itself is in.
When the processor is in "Normal Mode" The LEDs will indicate what status the processor is in. To enable or bypass the processing, it's just a matter of pushing the knob to toggle the processing on and off.  You will notice that as long as the unit is on, the blue LED will always be illuminated. If the blue LED is off, then either the unit is off, or there is a malfunction with the knob or cable: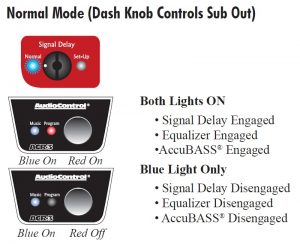 When the unit is in "Setup Mode" the lights will have different behavior. You would only put the processor in to "setup mode" when you are setting up the Signal Delay feature. To switch between delay control from the sub channel and the front channels, you would push the knob itself to toggle between the two.