How to store a secure backup on the AVR-7/9 or Maestro M5/9
To store a secure backup, you will need to access the engineering menu of the AVR or Maestro.
To do this, you will simply need to press and hold the "menu" button on the front panel of the unit for about 3 seconds. This will trigger the menu to pop up on the display: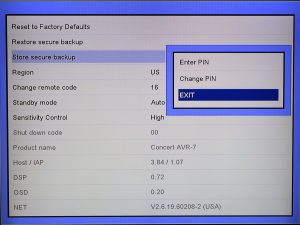 Once you select the "Store secure backup" a pop up window will show up like the above picture, select "Enter PIN".
The default password is "0000". It should auto-populate so it is just a matter of pressing the "OK" button on the remote to store the backup.
A message will appear stating storing the backup is successful and you are done!