To store a secure backup, you will need to access the engineering menu of the Maestro processor or Concert receiver.
NOTE ON MENU NAVIGATION: On the front panel, use the "Input + [up arrow]", "Input – [down arrow]", "Info [left arrow]", and "Mode [right arrow]" buttons to navigate to the various menu options. To select a menu option press the front panel SELECT button. Or, once you are in the engineering menu you can use the AudioControl IR remote to navigate menu options.
To access the engineering menu, press and hold the MENU button on the front panel of the unit for about 3 seconds.
On the Maestro X7/X9 and Concert XR4/6/8 receivers the engineering menu will come up on the front panel display of the unit (there is no on screen display of the settings menu on your TV with the X/XR series processors or receivers).
On the M5/M9 processors and AVR 7 or AVR 9 receivers the engineering menu will come up on your TV like the image below.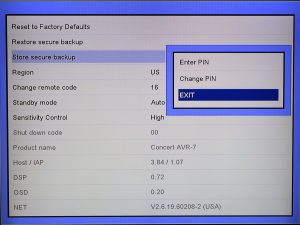 THE FOLLOWING INSTRUCTIONS APPLY TO BOTH THE NEW MAESTRO X7/X9 AND CONCERT XR4/6/8 MODELS AS WELL AS THE DISCONTINUED MAESTRO M5/M9 AND AVR 7/AVR 9 MODELS:
From the menu select STORE A SECURE BACKUP.
Once you select the STORE A SECRURE BACK UP, a pop up window will show up > select "Enter PIN" > the default password is "0000" and should  be auto populated > so it is just a matter of pressing the SELECT button on the front panel (or the OK button if you are using the AudioControl IR remote control to navigate these menus).
A message will appear stating the backup was successful and you are done!