You have the ability to set the ACR-3 to adjust any of the output levels of the DM processor or Matrix DSP amplifier.
Two of the most common applications is to set the ACR-3 as the sub woofer output volume, OR making the ACR-3 a master volume control by assigning all outputs to the ACR-3 control.
To do this select Output View and then select the Output Channels that you want to control with the ACR-3, then in the ACR-3 Remote section select  Level.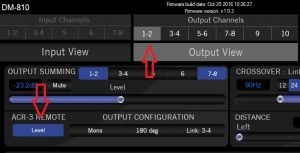 For example, to make the ACR-3 a master volume knob, you will want to ensure the "Level" button is selected for each output you are using.
***Special Note*** The ACR-3 is not designed to simultaneously be a master volume knob AND a subwoofer volume knob. The one exception is if you have the DM Processor setup for multiple inputs. For example, preset 1 is setup for bass volume control from the factory high level speaker inputs. Preset 2 is a master volume knob for the optical input.***