Sometimes we make mistakes. Sometimes we put the wrong remote code into the remote and overwrite the correct code that does work.
Have no fear!
You can easily wipe the remote of any offending codes.
All you have to do is press and hold both the "HOME" and "MENU" buttons down for about 5 seconds.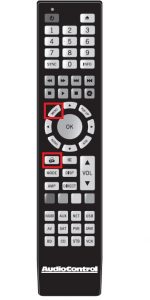 After about 5 seconds, the POWER LED should blink 5 times indicating that all programming and setup codes that you have entered into the remote are erased. At this point, the remote will be set back to its factory default state.