Reset To Factory Default: for Concert series receivers and Maestro series processors.
At certain points in troubleshooting an issue with our Concert AV receivers, or our Maestro processors it is a good idea to reset the system to factory default.
In order to do this, you will first have to access the Engineering menu.  Press and HOLD the MENU button on the front panel for at least 3 seconds.
For the X7 and X9 processors and XR4 / XR6 / XR8 receivers the Engineering menu will be displayed on the front panel screen of the receiver or processor (there is no on screen (TV) menu on these new units). Once the Engineering menu is displayed you can select Store Secure Backup to save settings before doing the reset > select Enter Pin and enter four zero's (if not already populated) and press Select on the front panel > you should see a message saying "Secure Backup Successful, Press Ok To Continue", press Select on the front panel. Now you can proceed to reset to factory settings.
Also in the Engineering menu select Reset To Factory Defaults > you will see a warning that you are about to reset > press the Direct button on the front panel to continue > after the reset the receiver or processor will go into Standby mode > turn the volume knob to reboot and then wait for the NET Starting and System Starting messages to finish. The unit is now reset to factory settings.
To restore settings after a reset press and hold Menu again to get back into the Engineering menu and select Restore Secure Backup > follow the prompts to restore settings.
Note: Resetting to Factory Defaults resets the receiver or processors network settings to DHCP so any static IP address information would need to be reentered after the reset.
For the AVR 7 and AVR9 receivers and Maestro M5 and M9 processors the front panel display will read "Setup Menu" but you should see this menu pop up on your TV screen: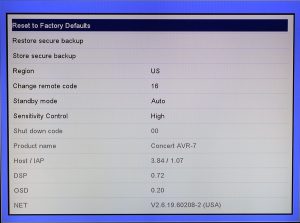 When you reset to factory defaults, this will wipe out all settings that are on the unit.  In order to not lose any of these settings, you will want to "Store secure backup" first.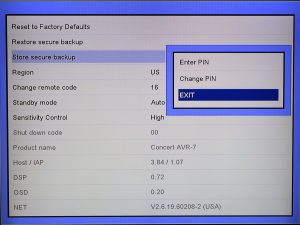 The menu will ask for a PIN.  The default PIN is 0000.  It should be pre-loaded.  You will just need to press the select button to confirm the PIN.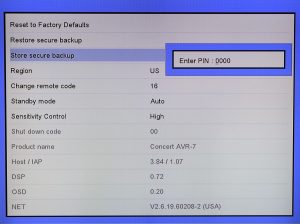 After it stores the backup, you will then want to "Restore to factory defaults".  When you choose this option, it will give you this message: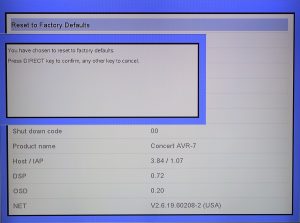 Press Direct to confirm, and this will turn off the AVR 7/9 or M5/9.  You will just need to turn the unit back on and go back into the Engineering menu by pressing and holding the Menu on the front panel again. At this point, you will just need to select "Restore Secure Backup". The unit will turn off again, you will then turn the unit back on and you should be good to go!