If your home theater has a 5 channel speaker configuration, meaning you have Front Left/Center/Right and Surround Left/Right speakers (no Surround Back speakers), the Concert XR6, XR8, and AVR 7, AVR 9 receivers allow you to use channels 6 and 7 to power either Zone 2 OR Height1/Atmos Front speakers, OR in the case of a 7 channel system you can power Surround Back speakers.
To enable this function, you need to access the Setup Menu of the receiver.
Note on using front panel buttons to navigate: Use the "Input + [up arrow]", "Input – [down arrow]", "Info [left arrow]", and "Mode [right arrow]" buttons to navigate to the various menu options. To select a menu option press the front panel SELECT button. Press the Menu button anytime to exit the menu screens and any setting changes will be saved automatically.
For the XR6 and XR8 receivers press Menu on the front panel of the receiver > navigate to Speaker Types > select None for Surround Back speakers > then under Use Channels 6 & 7 select either Zone 2 or Height Front. The image below is from the web interface but the menu options on the front panel display are the same.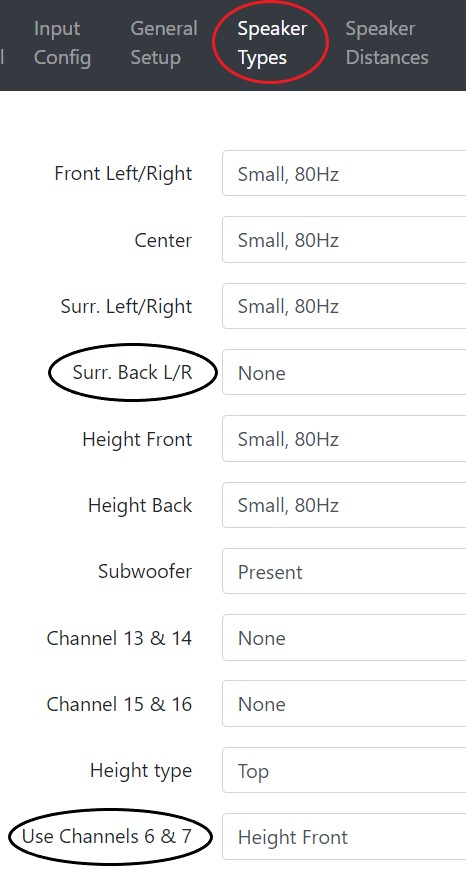 For the discontinued Maestro M5 / M9 and AVR 7 / AVR 9 units press the Menu button on the front panel, or on  the AudioControl HTR-2 remote, if using the remote you have to first press the AMP button, then press Menu. This will bring up the Setup menu on your TV screen.
Navigate to Speaker Types and scroll down to the last option in the menu that will be  Use Channels 6&7 For > select this option and you will be able to choose ZONE 2 or HEIGHT 1.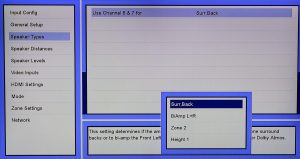 (click to enlarge)