Seattle, WA; December 16th, 2015
AudioControl, the industry leading designer and manufacturer of high performance mobile electronics, announced today that at the 2016 International CES Expo in Las Vegas, they will be introducing their new line-up of high-performance DSP matrix-processors, and their first ever full-range processing amplifiers. Additionally they will be unveiling a major update to the merchandising of their products, all to be unveiled on day one of CES 2016. All products have been directly influenced by leading installers throughout the USA and worldwide, to further push forward AudioControl's mission of 'Making Good Sound Great™'.
New Digital Signal Processors
AudioControl will debut two new matrix-processors at CES 2016, designed, engineered and manufactured in the USA. Both models include AudioControl's new DSP software platform, designed to deliver its new 'Smart-user' installer interface with software-ergonomically designed features to simplify and provide the best installer real-time user experience. The DM-810 has eight active high-level speaker inputs, six pre-amp inputs, and two digital inputs plus ten pre-amp outputs. The DM-608 has six eight active high-level speaker inputs, six pre-amp inputs, and two digital inputs plus eight pre-amp outputs.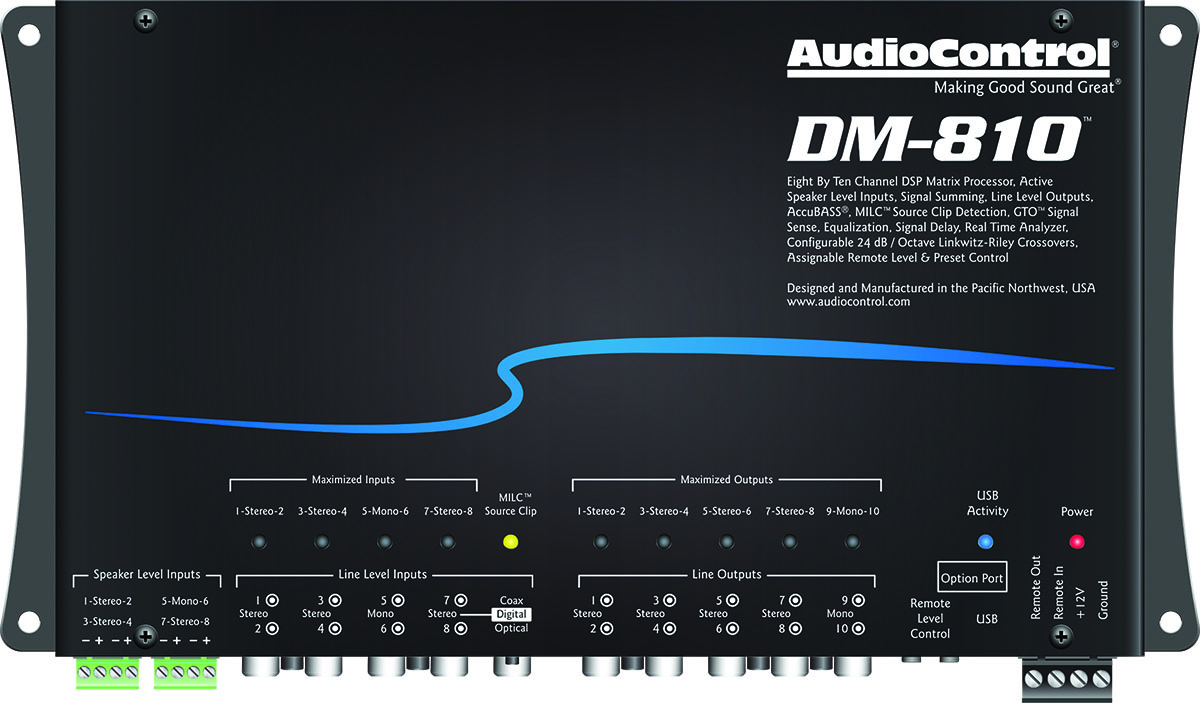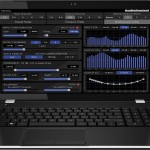 AudioControl's 'Smart-user' interface contains the power of AudioControl processing through a flexible DSP PC interface packed full of features and simply laid out including 30-bands of EQ adjustment, parametric filters, signal time-alignment, input delay, phase correction, AudioControl AccuBASS™, GTO turn on circuit, as well as integrated input and output RTA's. This exciting new platform also incorporates a connectivity port that will allow users to program DSP features using Android or iOS devices, as well as stream media including high quality lossless audio via an optional AudioControl Bluetooth device.
"Given our leading position in high performance factory-radio and after-market signal processing, our dealers have been asking us to complement our leading audio-processors by offering powerful AudioControl DSP processors", commented Chris Bennett, AudioControl's National Sales Manager of Mobile Electronics. "Our product engineering and software design teams collaborated together to bring to the market a completely new series of DSP performance processors with the smartest, most powerful DSP software to simplify and create the best user experience and entertainment performance in the market today for all cars".
New Full Range Car Amplifiers
On the back of AudioControl's successful launch of 'The Epicenter' subwoofer amplifiers, introduced in 2015, AudioControl has built on this success with the introduction of its first line-up of full-range amplifiers. These new models superbly complement the award-winning 'The Epicenter 1200™' and "The Epicenter 600™' subwoofer amplifiers.
The new models initially feature two 4-channel models and feature over 200 watts RMS at 2 Ohms. The LC-4.800 and D-4.800 (The D-4.800 incorporates AudioControl's new Smart-User DSP software platform) models have six/eight high-level speaker inputs that allow for signals to be summed directly into the amplifier. AudioControl has also included much of its signal processing technology including features of its popular LC2i, AccuBASS™ bass management, GTO™ Great-Turn-ON, as well as Linkwitz-Riley Crossovers and more.
The D-4.800 benefits from being a full DSP Amplifier incorporating AudioControl's new matrix-processing Smart-User software developed for its  DM-810 and DM-608 DSP Processor line-up.
Bennett continued "Our dealers have been asking for the best in amplification from AudioControl and we have delivered a unique line up of new full-range amplifiers that will lead the way where the user truly wants to step up the performance and power of their audio system – Our new 'LC Series' and 'D Series' Amplifiers are truly 'no ordinary amplifiers' and the first in a range of AudioControl amplifiers unlike any other on the market today!"
AudioControl will be debuting all its new processors and Amplifiers at International CES 2016, Booth number 2112 in the North Hall.  All models are expected to start shipping early in 2016. All AudioControl products carry AudioControl's 5-year limited warranty.
About AudioControl
AudioControl is a U.S. designer and manufacturer of the highest quality home theater processors and amplifiers, distributed audio amplifiers, car audio, signal processors and pro-audio products, celebrating nearly four decades of 'making good sound great'. The company's headquarters, including research & development, manufacturing, production, & training facilities continue to thrive in Seattle, Washington heart of the rainforest of the Pacific Northwest.
Press Contact
Chris Kane
chris.k@audiocontrol.com
(425) 775-8461
Hi-Res Images and additional press information is available at www.audiocontrol.com/press/images