High Power, Energy Efficiency, and Speaker Control  Highlight New Amplifier From AudioControl
Mountlake Terrace, WA – Do you want superb sound quality while driving eight speakers from a two-channel distributed audio amplifier?  Want AudioControl legendary reliability and speaker equalization with amazing energy efficiency? The waiting is over as AudioControl is now shipping their new high powered, great sounding stereo amplifier, the Architect Model 210. All of these are standard features of the new AudioControl Architect Model 210 amplifier as it will comfortably drive eight speakers (stable into 2 ohms) and has an astonishingly low energy usage, meeting the new stringent Energy Star 2 requirements.
"The AudioControl Architect Model 210 is a perfect amplifier for distributed audio systems as its huge power reserves make it ideal for use in large spaces or zones that require the use of multiple speakers," explains Chris Kane of AudioControl. "In addition to its tremendous power capabilities, the Architect Model 210 provides superb sound quality as it utilizes the same characteristics as AudioControl's legendary home audio amplifiers. A noted reviewer of AudioControl amplifiers actually proclaimed "'I haven't heard an amplifier at any price I'd rather listen to.'"
The Architect Model 210 is designed to be installation friendly and to that end, it includes a lengthy number of features:
240 watts per channel into 2 ohms with bridged power of 410 watts
Custom Speaker Optimization Controls
Ultra low current consumption of <1 watt at standby!
Dual speaker output terminals for each channel (optional 5-way binding posts)
Main plus Auxiliary inputs with Signal-Sense Turn-On
Stereo/Mono control
Cool Blue Front panel Status LED indicators
Signal Present LED's on speaker outputs
PFM Subsonic Filter for speaker protection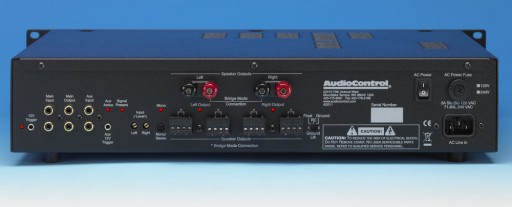 Like all products manufactured at AudioControl's U.S. facility, the Architect Model 210 comes with a bulletproof five-year parts and labor warranty.
The Architect Model 210 is now shipping to AudioControl dealers
AudioControl is a U.S. designer and manufacturer of highest quality theater processors, distributed audio amplifiers, signal processors and precise analysis products, celebrating more than 30 years of making good sound better. The company's headquarters, including research and development, manufacturing, production, and training facilities continue to thrive in Mountlake Terrace, Washington; heart of the rainforest of the Pacific Northwest. AudioControl®, Architect Model 210, PFM and "Making Good Sound Better®" are trademarks of AudioControl, Inc. For more information, visit AudioControl online at www.audiocontrol.com.