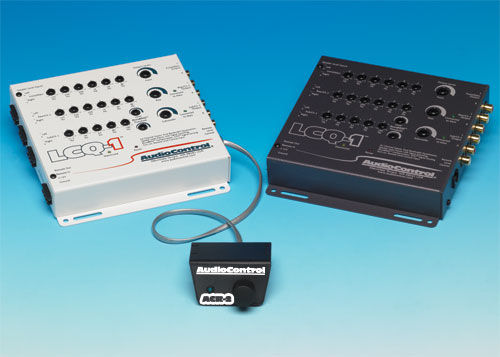 Mountlake Terrace, WA – AudioControl, the U.S. based manufacturer of award winning audio components is pleased to announce details of their new LCQ-1. This powerful, six-channel signal processor provides an audio bridge between factory installed source units and after-market amplifiers. Mobile Electronics enthusiasts can now easily install and "tune" audio systems that will truly outperform OEM. The LCQ-1 is an ideal combination of discrete equalization controls combined with AudioControl's active speaker level integration circuitry. Enthusiasts who want audio performance that only comes from custom tuned audio systems but want to utilize their factory installed source units will truly enjoy the LCQ-1.
"Enthusiasts want their audio systems to "Make Better Sound" and have created high expectations for the performance of their autosound systems," explains Chris Kane of AudioControl. "The LCQ-1 allows dealers to easily interface with factory installed audio systems and utilize precise equalization controls to optimize the sound. With an aggressive selling price of only $299, the LCQ-1 is a component that can be included in every performance OEM integration system."
Designed for maximum sound quality and enhanced audio performance, the LCQ-1 is the latest AudioControl processor to incorporate AccuBASS™ . This patent pending process automatically corrects for the bass roll-off that is common with many factory-installed audio systems. AudioControl engineers designed the LCQ-1 to be a very high-value processor, so subsequently it was equipped with a number of installer friendly features that simplify the connection and calibration process:
Individual equalization controls for the front, rear and subwoofer channels
Input For Optional ACR-2 Remote Level Control with equalization switching – Allows for control of subwoofer output plus equalization bypass for highly effective demos.
Six channels of active speaker level inputs – accepts up to 400 watts per channel
Internal Channel Summing – For interfacing with factory installed amplifiers with built-in crossovers
GTO™ (Great Turn-On) Circuit – Powers up the LCQ-1 when it detects signal on the speaker level input
Fixed and variable outputs with discrete level controls
The LCQ-1 is housed in a compact (6″x 6″) chassis allowing for ease of installation. Like all AudioControl signal processors, the LCQ-1 is backed by an industry leading, five-year parts and labor warranty, when installed authorized AudioControl dealers.
The LCQ-1 will be available through authorized AudioControl dealers in June 2011.
AudioControl is a U.S. based designer and manufacturer of highest-quality home and car audio components, committed to the pursuit of perfect audio systems. The company's headquarters including research and development, manufacturing, production, and training facilities thrive in Mountlake Terrace, Washington; heart of the rainforest of the Pacific Northwest. AudioControl, LCQ-1, AccuBASS, GTO  and "Making Good Sound Better®" are trademarks of AudioControl, Inc. For more information about AudioControl's full line of performance autosound components, visit their web site at www.audiocontrol.com.