If you plan on streaming audio with your X series processor or XR series receiver we highly recommend having a wired network connection to the processor or receiver. The preferable connection would be to have a LAN port on your router connected to a gigabit network switch and then have all your AV components connected to the switch.
However, if you would like to use Wi Fi please follow these instructions on how to set up a Wi Fi connection.
First, attach the Wi Fi antenna's to the appropriate connectors on the back of the processor or receiver. Please note there are two Wi Fi antenna connectors and one Bluetooth antenna connector.
Next, you do need to temporarily connect your processor or receiver to your network router using an ethernet cable. Then, using the front panel buttons, press Menu > select Network > and make note of the IP address that the unit has acquired from your router (it will be something like 192.168.1.52 or 10.0.0.52).
Open a web browser (Chrome, Safari, etc.) and enter your receiver or processors IP address into the address field and press enter. After entering the IP address you should see the web interface of the receiver or processor. If this is your first time logging into the web interface you will be prompted to select some initial setup options, follow the prompts to complete these steps.
Once logged in to the web interface, select the Network tab, this is where you can set up the Wi Fi. Leave the Type option on Automatic, leave both the Wired and Wireless DHCP settings on Yes > under Find Available Networks select Start Scan > choose your wireless network name (SSID) from the list of available networks > enter your Wi Fi password > leave the Manual Settings set to No and then select Configure.
Once the Wi Fi setup is complete you can then unplug the cable from the ethernet port on the back of the processor or receiver and operate with Wi Fi.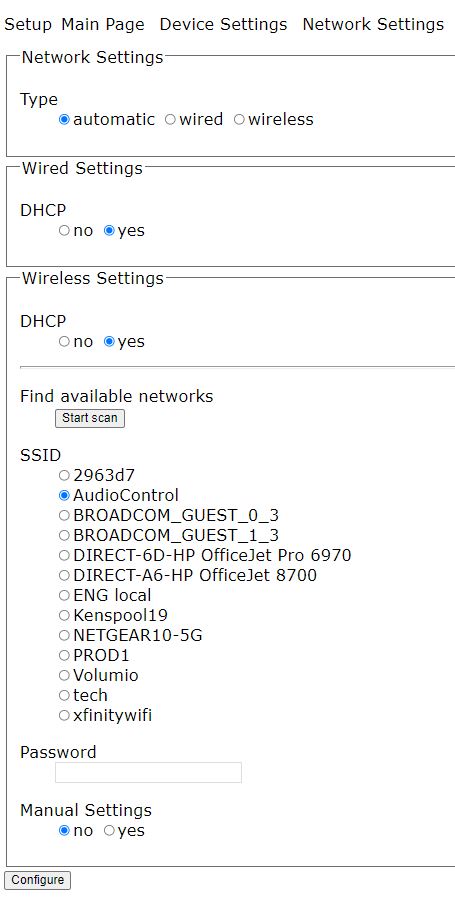 Related Link:
Streaming audio options for X / XR series processors or receivers