The AudioControl X series processors and XR series receivers have a set of line outputs that are a fixed volume stereo analog output. Audio from the analog, digital, or HDMI inputs can be routed to the line outputs. HDMI and optical/coaxial digital input audio will be converted to two channel analog audio. The line outputs will output the audio from whatever source you have selected for the processor or receivers Main zone. For example, if your Apple TV is on the AV HDMI input then the line outputs will play Apple TV audio in two channel analog format.
A common use for the line outputs is to send audio to a wireless headphone systems Bluetooth or RF transmitter. Using the line outputs, you can listen with headphones and speakers on simultaneously or, turn the receiver or processors volume control down and just listen on headphones since the line output volume is not adjusted with the processor or receivers volume control. When using the line outputs in this way the headphone volume is adjusted using the volume control on the wireless headphones.
If you plug wired headphones into the front panel headphone jack the speaker outputs on the XR series receivers and pre-outputs on the X series receivers will automatically be muted. Volume will be controlled by the processor or receivers volume control. Alternatively you could use the line outputs to send stereo analog audio to a standalone headphone amplifier that has a volume control.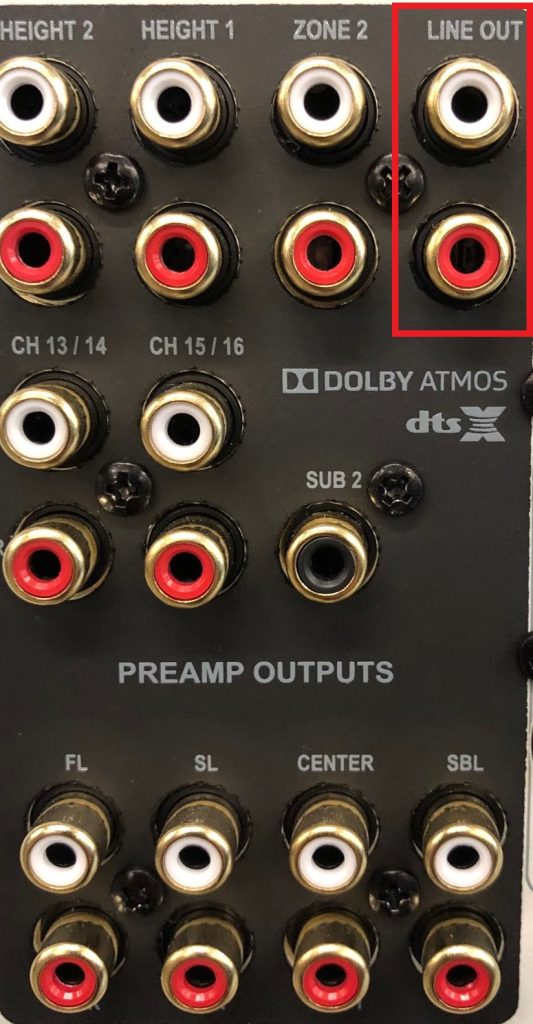 If you need additional assistance, our Customer Service and Technical Support representatives are available Monday thru Friday 8am to 5pm PST. 425-775-8461.