How to upload speaker profiles to your Director and RS DSP amplifiers?
This article refers to uploading speaker profiles for the Director and Director Matrix DSP amplifiers and for the RS500 or RS1000 subwoofer amplifiers.
To upload the speaker profiles, you will simply need to download the latest file from the product page of the Director or RS series amplifier that you have. You can get to the amplifier Download pages here. Save the Speaker Profiles file to your Desktop or Downloads folder on your computer. 
Once you have downloaded the Speaker Profiles file you will need to log into the web interface of the amplifier by entering its IP address into a web browsers address field. If you need help on how to determine the amplifiers IP address on your network, please refer to this KB article IP Address
If you have a Director or Director Matrix DSP amplifier running on an earlier version of firmware (1.1.xx) you can update the firmware to 2.0.xx by following the instructions provided in this link (The RS series subwoofer amps started their life on FW version 2.0.xx) Firmware Update
If your Director amplifier is already on the latest 2.0.xx version of firmware, and for RS sub amps, once you are logged into the web interface you will see a gear icon in the upper right corner > select it to open the settings menu > select SPEAKER PROFILES > then select LOAD.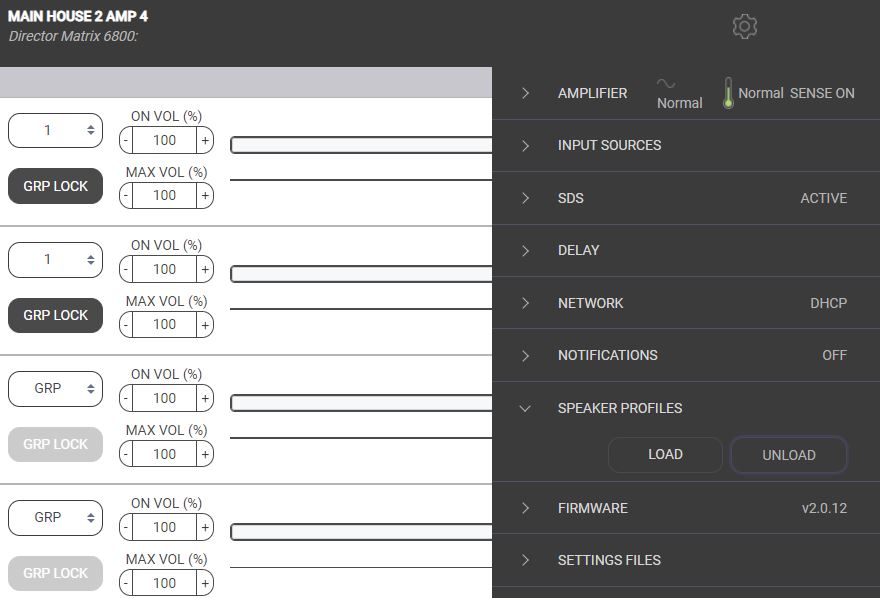 Once you select LOAD you can navigate to the location on your computer where you saved the Speaker Profiles file and select that file to start loading.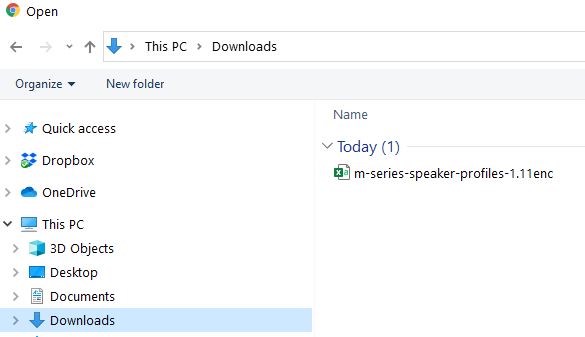 The Speaker Profiles will begin to load with a pop up indicating "Importing Speaker Profiles". 

Once the Speaker Profiles are loaded you can open the drop down menus for each output zone, select SPEAKERS and then select a brand and model number from the profiles drop down list.

________________________________________________________________________________________________________
If you would like to proceed loading Speaker Profiles into a Director or Director Matrix amplifier running version 1.1.xx please follow these instructions: 
Enter the amps IP address in a web browsers address field to access the Director's web interface and then select the Device Configuration tab. You will first want to unload the current speaker profile by pressing the button in the bottom right corner of the device config tab.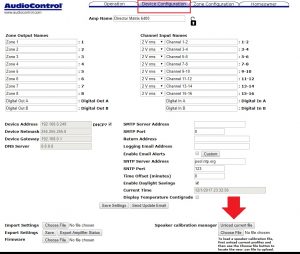 You should get a confirmation pop window:

\
Click on "choose file" to select the latest file, a file explorer window will pop up and navigate to the file that you have saved to your computer.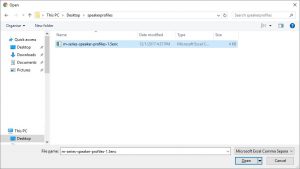 Once selected the file will begin to load.

It can take a good 2 minutes or so before it loads.
You may get an error that looks like this:

If so, don't worry. Wait another minute or so, and you should then get a success message:

To confirm the upload was successful, navigate to the zone configuration tab. There should now be a section with a drop down menu where you can select the speaker profile you wish to load.