Sub 1 and Sub 2 output on our AVR's and pre processors are not independent. They are fed by the same sub channel.
You can designate which pre output the AVR/pre processor outputs the sub channel via the Speaker Types tab on the On Screen Display: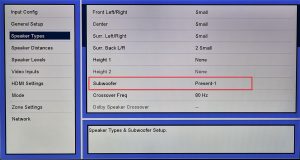 The options are Present-1, Present-2 or none. When Present-1 is selected,the AVR will activate the Sub 1 output, if Present-2 is selected, it will activate both Sub 1 and 2.