The AudioControl Director Matrix series and CM 70 volt Matrix series amplifiers have a feature called SDS which stands for Signal Detection Switching. SDS allows you to connect the audio output of a doorbell system, home automation system, or a voice activated device to an SDS designated input on the amplifier so you can hear a doorbell or an announcement/page through your home or commercial audio distribution system.
The way it works is, you assign a particular input on the amplifier as the SDS input and, you select what zone outputs will play the audio from the SDS input. When the SDS input detects an incoming audio signal the amp immediately plays that audio through the speakers in the zones you have assigned in the SDS setup. When the SDS input is activated, any audio that was playing will be fully muted until the announcement is completed.
To setup SDS you will need to log into the Director Matrix or CM amplifiers web UI by entering the amplifiers IP address into a web browsers address field. If you do not know your amplifiers IP address you can use an IP scanner such as Advanced IP Scanner to search for the amplifier on your network.
Once you are logged into the web UI open the settings menu by clicking on the gear icon in the upper right corner.
Open the SDS tab.
In the SDS Input drop down list, select an input to be assigned as the SDS input, the input button will turn orange.
Select the Zone Outputs you want to use for SDS.
Adjust the volume for each SDS zone (SDS feature does not perform audio ducking, see note below*).
This screen shot is from a Director Matrix M6800 amplifier (SDS setup is the same in the CM series 70 volt amps):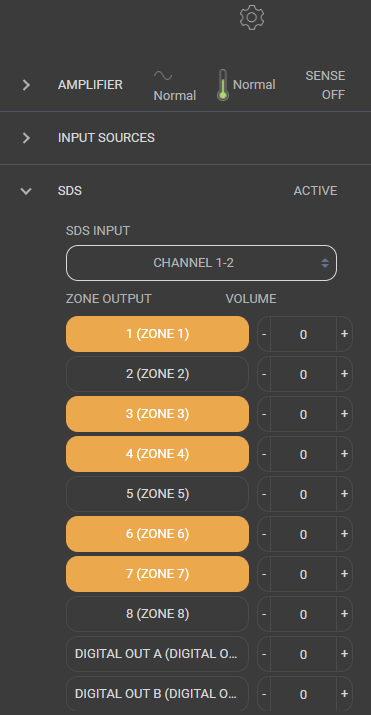 *NOTE: Audio ducking refers to lowering the volume of any audio that might be playing when an SDS input detects an incoming audio signal, so the SDS audio overlays the currently playing audio rather than fully muting it.
Related Links:
CM 70 volt – Dual Mode amplification
CM 70 volt – How to split inputs
If you need assistance our Customer Service and Technical Support representatives are available Monday thru Friday 8am to 5pm PST. 425-775-8461