HT Remote app: X series processors and XR series receivers (Apple iOS only).
The AuiodControl HT Remote app allows you to control your AuidoControl X9 / X7 processor or XR8 / XR6 / XR4 receiver from your Apple iOS mobile device.
Please refer to this Setup Menu article on how to access and navigate the setup menu options of your AudioControl processor or receiver using the front panel buttons and display or via the web browser interface.
First, make sure the AudioControl X9 / X7 processor or XR8 / XR6 / XR4 receiver and your iOS devices are connected to your home network (same SSID). For your AudioControl device, connect an Ethernet cable to the rear panel Ethernet port and then plug the cable into your home network router or network switch. Your iOS device will need to be connected to the home WiFi. Read more about network connections at the end of this article.
To ensure that your AudioControl device is connected to your network you can use the front panel buttons and display to confirm that your device has acquired an IP address from your network router. Select Menu > select Network > make note of the IP Address and MAC address.
Download the HT Remote app from the Apple App Store and install on your iOS mobile device. Make sure your AudioControl device is powered on. After opening the app, choose your AudioControl processor or receiver from the list of available devices. The list will show the device name and it's IP address on your network. This information page also shows the version and build numbers of the HT Remote app at the bottom of the page. Note: You can rename your AudioControl device in the web browser setup menu under Device Settings.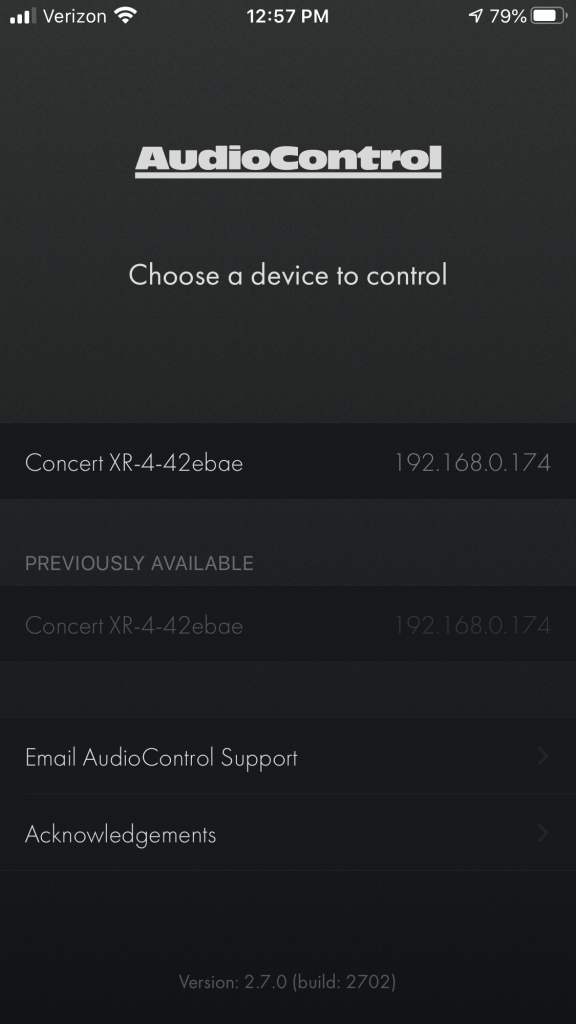 Amp page: Power on/Standby, Volume and Mute, Input selection, and Subwoofer Trim controls.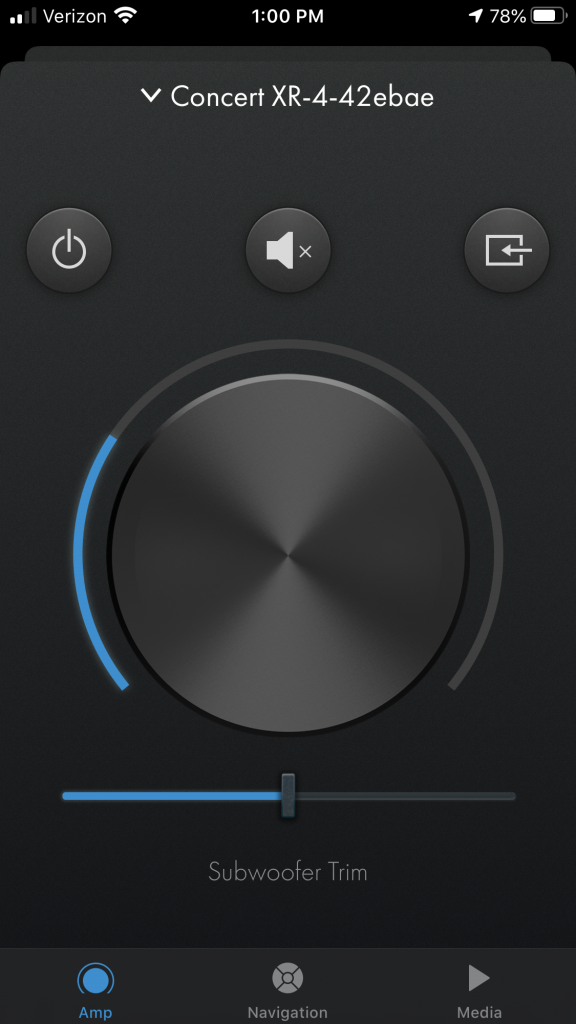 Navigation Page: Has cursor and select buttons, SYNC is for Lip Sync adjustment, DISP allows you to adjust the front panel display brightness or turn it off, HOME takes you back to the front panel main screen, MENU brings up the main page of the setup menu on the front panel display.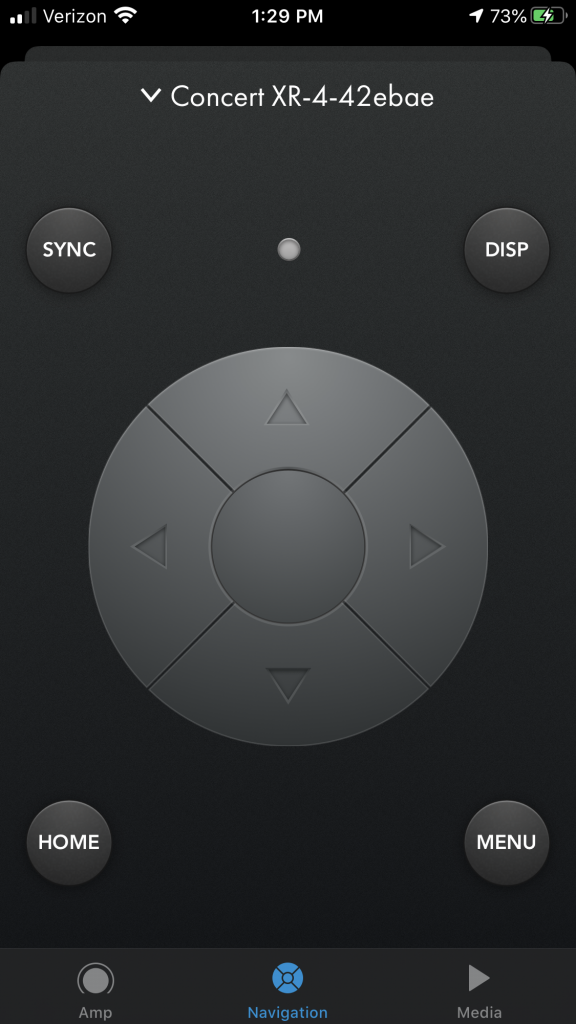 Media page: Displays Source/Format/Decode Mode/Sample Rate information for the incoming audio signals and has basic transport controls. HDMI toggles between HDMI outputs (on XR6 & XR8), VOL toggles Dolby Volume on/off, AUDIO toggles Dirac EQ settings on/off, DIRECT toggles Direct mode on/off, MODE toggles through available audio modes, and INFO displays pertinent info on the front panel depending on what source is currently selected.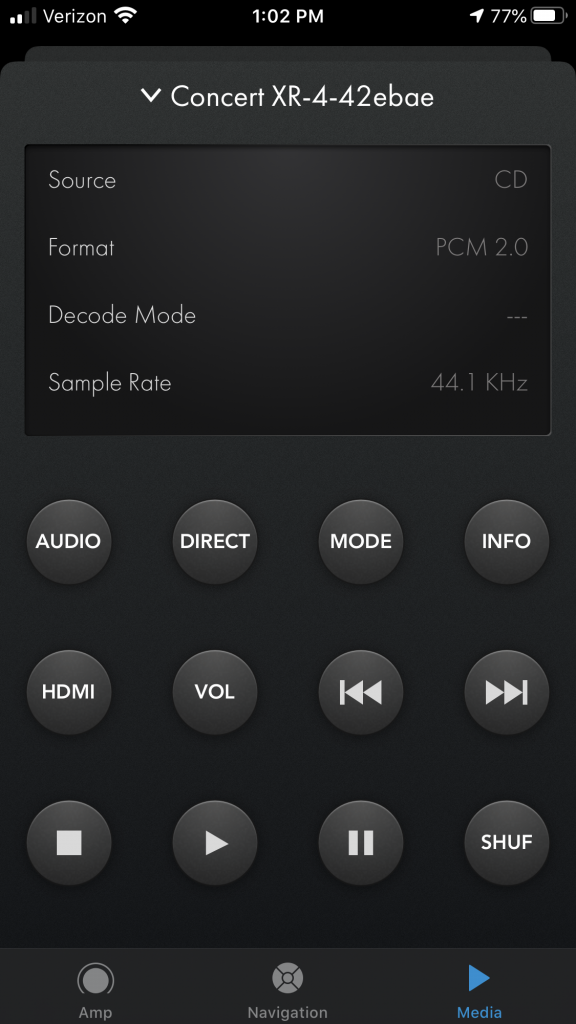 ADDITIONAL INFORMATION
For more detailed information about the features of your X series processor or XR series receiver please refer to the individual product manuals available here, MANUALS.
Network information: To ensure the best possible experience using the HTR control app or for streaming audio, we highly recommend that you connect your AudioControl device to your home network via a wired connection. Connect a Category 6 network cable from the rear panel Ethernet port on your AudioControl device to your home network router, or better yet to a network switch. For best network performance, if you are connecting multiple devices to your network with a wired connection then all devices should plug into a Gigabit speed network switch, and then plug only the switch into a LAN port on your router. Refer to your network hardware manuals or ask your professional AV/Network Systems Integrator for instructions on how to make these connections.