AudioControl Savoy G4, Pantages G4, and Avalon G4 amplifiers have the capability to bridge amplifier channels together to deliver more power to your speakers.
Bridging amplifier channels combines a stereo pair of channels into a single mono output channel. Bridging output channels supplies more power to large power hungry full range speakers in a two channel audio system, home theater, or to power larger passive in room/in wall subwoofers. 
The following channels are capable of being bridged on the AudioControl G4 series amplifiers:
Savoy G4 – channels 1-2 & 6-7
Pantages G4 – channels 1-2 & 4-5
Avalon G4 – channels 1-2 & 3-4
IMPORTANT NOTE: When bridging the G4 series amplifiers, do not use a speaker rated at less than 8 ohms. When bridging amplifier channels each channel of the bridged pair "sees" one half of the speaker load. This means that a bridged amp driving an 8 ohm speaker is actually operating into a 4 ohm load. Also, make sure your speakers are rated to handle the increased power that is provided by bridging.
Power output specifications for all G4 series amplifiers are the same:
230 watts per channel @ 8 ohms – stereo
300 watts per channel @ 4 ohms – stereo
600 watts @ 8 ohms – bridged
Using channels 1 – 2 of a Pantages G4 amp as an example, to bridge amplifier channels connect the positive (+) lead of your speaker cable to the positive (+) binding post of channel 1 and connect the negative (-) lead of your speaker cable to the negative (-) binding post of channel 2. There are markings between the binding posts indicating which connections to use when bridging.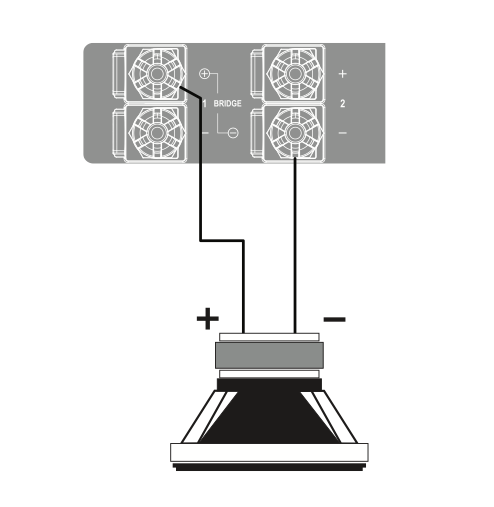 After connecting your speaker cables for bridging, press the Stereo/Mono button in to sum the channel inputs to mono. In mono mode, just use one balanced or unbalanced input. In the example of bridging channels 1-2 use just the channel 1 input.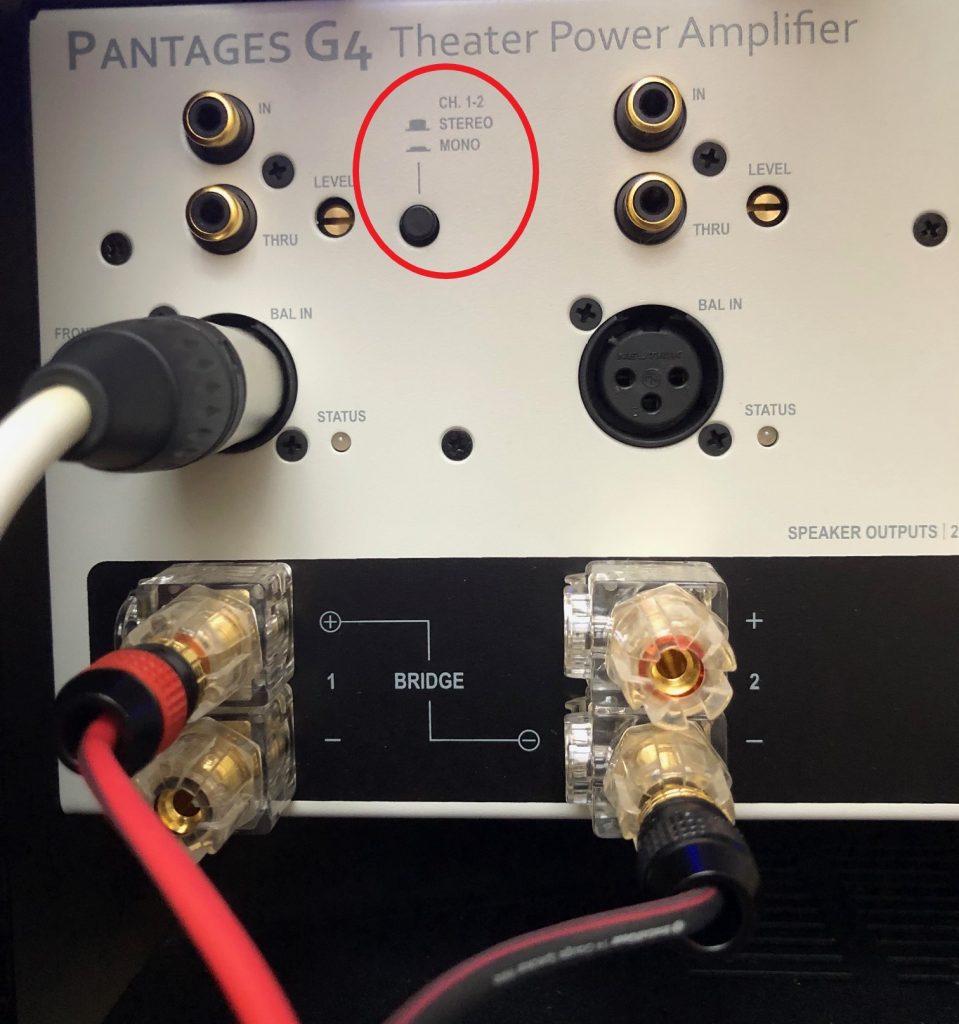 NOTE: The Avalon G4 four channel amplifier can be bridged down to a two channel amplifier delivering 600 watts per channel @ 8 ohms, and it also has high pass and low pass crossovers (that can be defeated) so you can setup a 2.1 channel system where channels 1-2 are powering a stereo pair of speakers and channels 3-4 are bridged to a single mono channel to power a passive subwoofer speaker.
For more information about the G4 amplifiers please refer to the individual product pages on the AudioControl website here.
If you need additional assistance please contact our technical support at 425-775-8461. Support is available Monday – Friday from 8am to 5pm pacific standard time.