This article refers to firmware updates for the CM4-750, CM3-750, CM2-750 70 volt amplifiers and the RS500 and RS1000 subwoofer amplifiers. 
First, from the AudioControl website, you will need to download the latest firmware from the product page of the specific amplifier you have. Here is a handy link to each products firmware downloads page: FIRMWARE
After you download the firmware folder to your Downloads folder, open the zipped folder and copy or drag the .bnc file out of the zip folder and keep it in the Downloads folder (you will navigate to this file later). The example screen shots are for a RS500 amp.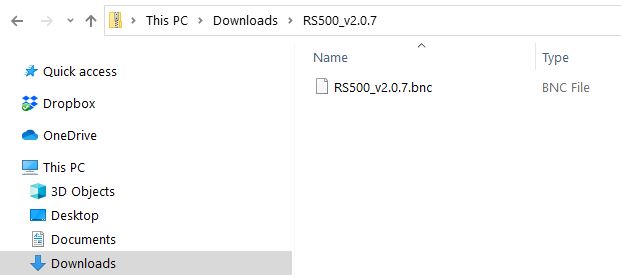 Once you have the latest firmware downloaded and saved to your Downloads folder you have to log in to the web interface of the amplifier. You will need to determine the amplifiers IP address and then type it into a web browsers address field. If you need help on how to determine the amplifiers IP address on your network, please refer to this KB article IP Address
Once you have the amplifiers IP address type it into your web browsers address field.
The web interface will be displayed, go to the gear icon in the upper right corner of the web interface and click on it to open the setup menu. From this menu go to the Firmware tab and open it > select UPDATE > navigate to where you saved the firmware file on your computer and select the file. The update process will start.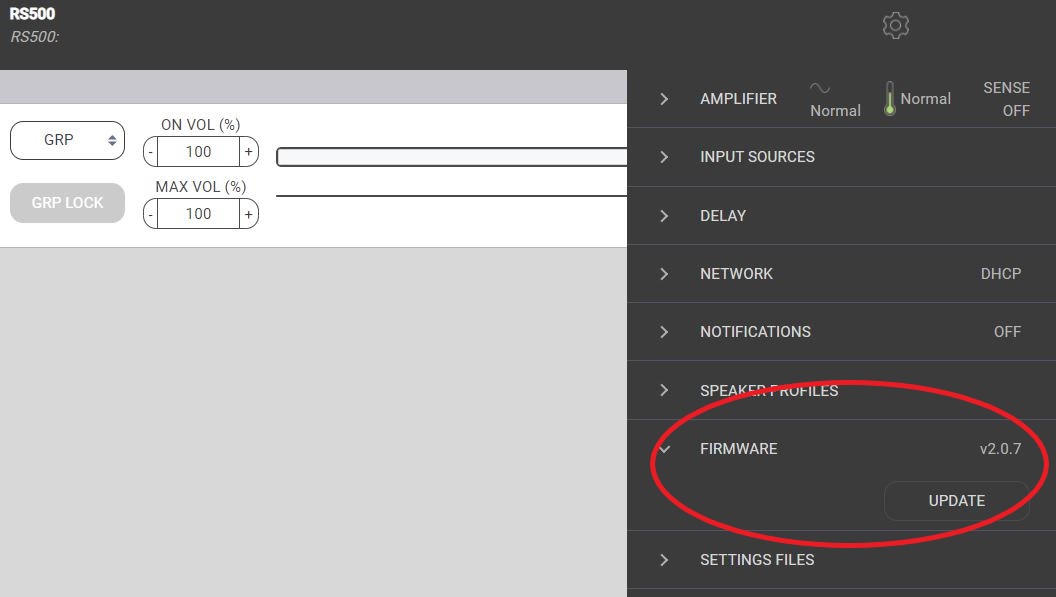 Once the update reaches 100%, the amplifier will reboot, it will take about a minute. Once the amplifier is rebooted, close out your web browser and then power cycle the amp off and back on using the rear panel power toggle switch.
Once the amplifier is powered back on, open your web browser and type in the IP address of the amplifier again to display the web interface. Check that the firmware is updated to the latest version by going back into the setup menu and check the version number in the Firmware tab.
NOTE: The CM series 70 volt amplifiers and RS series subwoofer amplifiers started their life on the 2.0.xx firmware. Our Director line of DSP distributions amplifiers may need to be updated from an earlier 1.0.xx version of firmware. For instructions on updating the Director and Director Matrix DSP distribution amplifiers please refer to this link: Director firmware
If you need additional assistance, our Customer Service and Technical Support representatives are available Monday thru Friday 8am to 5pm PST. 425-775-8461.
Related Links:
How do I assign a static IP address to my Director, CM 70 volt, or RS amplifier?
How to upload Speaker Profiles to my Director, CM 70 volt, or RS amplifier?