My factory head unit only has a mono output. Can I just send a mono signal into my LC2i?
Yes.  You would just have to make sure you connect it to the left input of the LC2i, since the GTO signal sense feature is only present on the left input of the LC2i.
If you have a sub amp that only takes a stereo input, you can do one of two things.
Either use a Y-cable to split the mono output of the LC2i to send to the amplifier.
Or you can jump the left speaker input of the LC2i to the right input using a pair of short speaker wires to send the signal to both inputs. At that point, you can then connect both the left and right RCA outputs to your amp.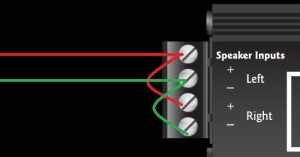 LC2i product page here