Can I use Channel 6+7 to Bi-Amp the front channels, while still using pre-outs for Dolby Atmos height speakers on my Concert AVR or Maestro M9?
Yes.
Within the setup menu of the AVR 7/9 or M9 – you can select  what channel 6 and 7 will be used for.
Within the speaker type menu, scroll down to "use channel 6 & 7 for"
(Click to enlarge)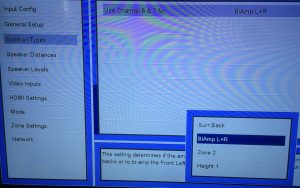 You can select "Biamp L+R" and still be able to use the pre-out's for the Dolby Atmos Height channels to send to a separate amplifier.
Concert AVR 7/9 product pages can be found here
Maestro M9 here