If you want to be able to connect headphones to your AVR 7/9 or Maestro M9 while still having the audio come thru the main speakers, you don't want to connect to the headphone jack on the front panel of the unit.  That will mute the speakers, and will only send audio thru the headphones.
In order to successfully use a pair of headphones and the Zone 1 speakers at the same time, you will have to utilize Zone 2.
You would connect the Zone 2 RCA outputs on the back of the unit to a headphone receiver/amp.
You would then want to make sure the Zone 2 is on and is following the Zone 1 source.
You can check this by bringing up the On Screed Display of the unit via the "menu" button on the front panel or on your remote: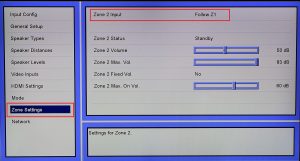 You will also notice that in the picture above, Zone 2 is in "standby".  You can turn on Zone 2 from either the front panel "Zone" button or from your universal remote.  There is no Zone 2 button on the HTR-2 remote that comes with the AVR/M9.
After we have confirmed Zone 2 is on, a downmixed stereo signal of the surround mix from Zone 1 will be outputted on Zone 2. Connect your headphones to the headphone amp/receiver and you are on your way!
***SPECIAL NOTE***
IN ORDER FOR ZONE 2 TO BE ABLE TO OUTPUT AN ANALOG STEREO SIGNAL, IT  NEEDS TO DOWNMIX THE SURROUND FORMAT TO A COMPATIBLE STEREO MODE. IN THIS CASE, DOLBY SURROUND. THE BYPRODUCT OF THIS IS ZONE 1 WILL THEN DEFAULT TO A SURROUND MODE THAT IS CAPABLE OF DOWNMIXING TO DOLBY SURROUND.
FOR EXAMPLE, IF ZONE 1 IS DECODING A 11.1 DOLBY ATMOS MIX, AND YOU TURN ON AND CONNECT ZONE 2, ZONE 1 WILL REVERT TO A DOLBY DIGITAL MIX IN ORDER TO BE ABLE TO DOWNMIX TO STEREO FOR THE ZONE 2 OUTPUT.