AudioControl Director and Architect series amplifiers have the capability to bridge amplifier channels together to deliver more power to your speakers.
Bridging amplifier channels combines a stereo pair of channels into a single mono output channel. Bridging is often used to provide more power to large full range speakers in a two channel system or home theater, or to power larger passive in room/in wall subwoofer speakers. All stereo amplifier channel pairs on Director and Architect amps are capable of being bridged.
IMPORTANT NOTE: When bridging channels, do not use a speaker rated at less than 8 ohms. When bridging amplifier channels each channel of the bridged pair "sees" one half of the speaker load. This means that a bridged amp driving an 8 ohm speaker is actually operating into a 4 ohm load. Also, make sure your speakers are rated to handle the increased power that is provided by bridging.
The Director "D" and "M" series amps bridged power rating is 400 watts.
The Architect "P" series amps bridged power rating is 400 watts. The Architect Model 2660 bridged power rating is 175 watts. And the Model 110 and 210 two channel amplifiers bridged power rating is 410 watts.
To bridge amplifier channels connect the positive (+) and negative (-) leads of your speaker cable for the single speaker to the INNER positive (+) and negative (-) terminals of the speaker connector and select the mono button for the bridged zone. On the Architect series amps the Mono button is on the back panel, for Director series DSP amps the Mono button is an option in the web user interface.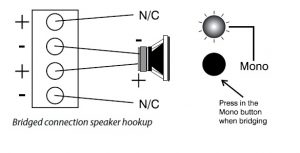 Architect Amplifier product pages here
Director Amplifier product pages here
If you need additional assistance please contact our technical support at 425-775-8461. Support is available Monday – Friday from 8am to 5pm pacific standard time.