Can I bridge the output of my Architect multi-zone amplifier or Director network amplifier?
Yes.
You would wire the single speaker to the inner + and – connectors and select the mono button on the bridged zone.
Click on image below to enlarge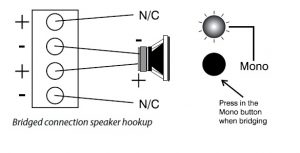 ****SPECIAL NOTE*****DO NOT USER A SPEAKER RATED LESS THAN 8 OHMS WHEN BRIDGING. IN A BRIDGED SYSTEM, EACH CHANNEL OF THE BRIDGED PAIR "SEES" ON HALF OF THE SPEAKER LOAD. THIS MEANS THAT A BRIDGED AMP DRIVING AN 8 OHM SPEAKER IS ACTUALLY OPERATING INTO A 4 OHM LOAD.********
To figure out the power of the zone when it is bridged, please refer to our comparison charts for the amplifiers here and here.
Architect Amplifier product pages here
Director Amplifier product pages here