New Processor Offers Ultimate Control, Flexibility & Performance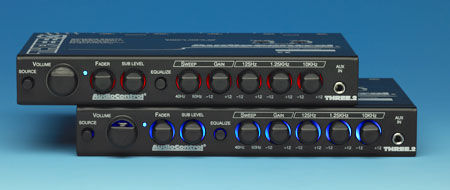 Mountlake Terrace, WA – AudioControl, an award-winning designer and U.S. based manufacturer of high-performance audio components, announced the release of an ultimate in-dash processor, the THREE.2. Affectionately called the "EQ on steroids," this high-end pre-amplifier offers equalization and crossover controls for enhanced sound quality, plus multiple audio inputs, providing maximum flexibility and sound performance for users.
"AudioControl has always been known for offering unique products that allow our customers to maximize the audio experience in their vehicles," commented John Borges, AudioControl's autosound sales manager. "Today's customers not only want great sound but also lots of flexibility and control. The THREE.2 offers all of this plus a cool blue or red back lighting scheme, that makes it look great in the dashboard of any car, boat, or even an ATV. Our customers want their music everywhere!"
Despite being housed in a compact ½ DIN-sized chassis, the THREE.2 is truly a feature-laden processor designed to provide users with control and flexibility. The THREE.2 starts with four stereo equalization controls including AudioControl's proprietary Para-BASS controls, which give subwoofers extra kick and detail as needed. It also features a 4 channel, 2-way, 24-dB/octave car audio crossover with a fader. To round out the package the THREE.2 also includes a subwoofer level control, master volume control, and the ability to select the back lighting illumination color between Cool Blue and Hot Red.
Given that many of today's audio enthusiasts like to carry their music with them, the THREE.2 is equipped with dual, 3.5mm auxiliary input jacks, located on the front and rear of the chassis. This helps facilitate permanent installation of cabling or lets a user plug in their portable audio device on the fly.
The THREE.2 will begin shipping September, 2010 and has a selling price of $299
For over 30 years, AudioControl has been a U.S. based designer and manufacturer of highest-quality home and car audio components, committed to the pursuit of perfect audio systems. The company's headquarters, including research and development, manufacturing, production, and training facilities continue to thrive in Mountlake Terrace, Washington; heart of the rainforest of the Pacific Northwest. AudioControl, THREE.2, Para-BASS and "Making Good Sound Better®" are trademarks of Electronic Engineering and Manufacturing, Inc. For more information about AudioControl's full line of performance autosound components, visit their web site at www.audiocontrol.com.