New Volume Control Functions Added To The Director
®

Series Amplifiers Compliments Industry Leading Signal Processing Capabilities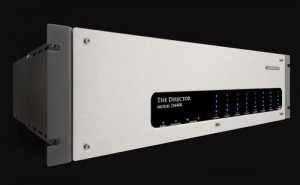 Seattle, WA; December 17, 2014 – AudioControl has announced a number of exciting new feature additions to their industry leading multi-channel amplifiers, The Director Model D3400 and Model D4400, that allows users to discretely control the volume levels of selected channels. New software enabled features provide integrators with a number of pre-amplifier capabilities that further expand the capabilities of The Director Series and make it an even more powerful distributed audio amplifier:
Summary Of Key Feature Additions To The Director Series
Ability to increase and decrease volume levels incrementally in each zone
Set volume level on a per group basis
Set a default "Maximum On Volume" function
Program query commands to identify current known volume status of zones and alerts
The AudioControl Director Model D3400 and D4400 network amplifiers are category leading products with flexible digital signal processing that supports graphic and parametric equalization filters for each zone, crossover functions, memory locations along with complete network monitoring of mute status and temperature. The amplifiers are rated at 65 watts per channel (D3400) and 100 watts per channel (D4400) respectfully at 8 ohms but can also be bridged for increased power level and are stable into low impedances.
These new volume controls are now included with all The Director series amplifiers, effective immediately. Command protocols for The Director series are available on the AudioControl website or directly thru 3rd party control companies.
The Director Series amplifiers are designed, engineered and manufactured at AudioControl's factory in the Pacific Northwest, located outside of Seattle, WA. Like all AudioControl audio products, The Director series network amplifiers come with a complete 5-year parts and labor bulletproof warranty.