AudioControl Launches New HDBaseT Extenders for the Custom Integration Channel Including Optional HDBaseT Upgrade for the Maestro M8 Processor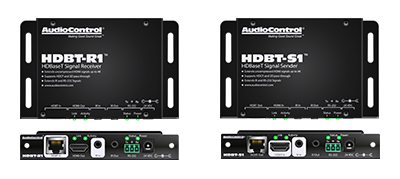 Seattle, WA – November 11th, 2014 – AudioControl has launched its new range of HDBaseT™ extenders to the custom installation market complementing its highly successful audio-video-extender product line-up. AudioControl's new HDBaseT extender package consists of the HDBT-S1™ Sender and the HDBT-R1™ Receiver, both sold independently or combined into a complete set-package called the HDBT-SR1. All models are available for immediate shipping worldwide.
In addition, AudioControl is the first company to offer an optional HDBaseT port factory-upgrade for its highly acclaimed Maestro M8 Surround Sound Processor. The AudioControl Maestro M8 incorporates an expansion port that allows the HDBT-S1 or HDBT-R1 to be optionally factory-installed thereby allowing the system designer or custom integrator the choice on whether to include HDBaseT connectivity, based on
the individual custom requirements of the project.
AudioControl has a reputation for designing, engineering and manufacturing analog, digital and video active signal extenders at its engineering and manufacturing location in the Northwest rainforest just North of Seattle. It's award winning BVD-20 and BVR-20 remain amongst the most popular audio extenders on the market today transmitting digital and analog video up to 1000 feet over Cat 5 wiring. The
launch of AudioControl's new HDBaseT extenders is a natural addition in it successful line-up of audio-video Baluns.
Key Features of the HDBT-SR1 System
Extends High Speed HDMI signals up to 70 meters over a single CAT5e/CAT 6 cable
Utilizes HDBaseT™ technology
HDTV and 4K UHD Compatible, HDMI 1.4 and HDCP compliant
Supports CEC
High Bandwidth of 10.2 Gps
Delivers high-resolution images (1080p@60Hz@48 b/pixels/3D/4Kx2K @ 30Hz)
Transmits EDID and Hot Plug Detect signals to display constantly via CAT5e or CAT6 cable
Bi-directional RS232/IR control
LED indicators and input and output color silkscreen design for ease of installation
For best results: The (slightly soggy) AudioControl network video experts recommend using CAT6 twisted shielded pair cables.

In addition, all of AudioControl's HDBaseT extenders and Home Theater products are put through a demanding set of individual tests utilizing test protocols and stringent bit rate and other standards using the latest in 4K testing apparatus from Quantum Data. This ensures that every product that leaves the AudioControl factory in Seattle has a certificate showing full pass rate testing ensuring the highest standards of reliability and pass-rate quality and performance.
About AudioControl
AudioControl is a U.S. designer and manufacturer of the highest quality home theater processors and amplifiers, distributed audio amplifiers, car audio, signal processors and precise analysis products, celebrating nearly four decades of 'making good sound great'. The company's headquarters, including research and development, manufacturing, production, and training facilities continue to thrive in Seattle, Washington heart of the rainforest of the Pacific Northwest.
For more information visit www.audiocontrol.com. Contact your local dealer or rep for more information or call the rainforest at 425-775-8461.
Press Notes
Press Contact: Chris Kane – 425-775-8461
chris.k@audiocontrol.com
Copyright 2014 AudioControl. All rights reserved. AudioControl, the AudioControl logo, HDBT-S1, HDBT-R1 and HDBT-SR1 are registered trademarks of AudioControl Inc. in the United States and/or other countries. HDBaseT is a registered trademark of The HDBaseT Alliance. Quantum Data is a registered trademark of Quantum Data Inc.