New Control4 Driver For The Director Amplifiers Provides Increased Flexibility
Seattle, WA; July 16, 2015 – AudioControl has announced the availability of a dedicated Control4 driver for their industry leading multi-channel amplifiers, The Director™ Model D3400 and Model D4400.  This new Control4 driver allows users to discretely control key functions of The Director™ amplifiers when they are used in conjunction with a Control4 controller. This further expands the capabilities of The Director™ series as one of the most powerful, flexible Network amplifiers available exclusively to the Custom Installation market.

Summary Of Control4 Driver Functions
Discrete Power Functions
Ability to increase and decrease volume levels incrementally across each zone plus muting functions
Increase volume level on a zone of across multiple zones on a per group basis
Recall dedicated equalization settings from memory locations
Ability to select discrete input via local or bus inputs
Set a default "Maximum On Volume" function
Program query commands to identify current known volume status of zones and alerts
The AudioControl Director™ Model D3400 and D4400 network amplifiers are category leading amplifiers with flexible digital signal processing that support graphic and parametric equalization filters for each zone, crossover functions, memory locations along with complete network monitoring of mute status and temperature and other custom alerts. The amplifiers are rated at 65 watts per channel (D3400) and 100 watts per channel (D4400) respectfully at 8 ohms (200 watts at 4 ohms) and can also be bridged up to 400 watts to further increase power levels and are stable into low impedances.
The new Control4 driver is available on the AudioControl web site at www.audiocontrol.com. The Director™ Series amplifiers are designed, engineered and manufactured at AudioControl's factory in the Pacific Northwest, located outside of Seattle, WA. Like all AudioControl audio products, The Director™ series network amplifiers come with a complete 5-year parts and labor bulletproof warranty.
Product Notes – AudioControl 'The Director Model D4400' Specification
AudioControl engineers utilized years of design experience to incorporate powerful Digital Signal Processing into The Director Model D4400. It is network accessible via rear-panel mounted Ethernet connections. The lengthy DSP feature set includes: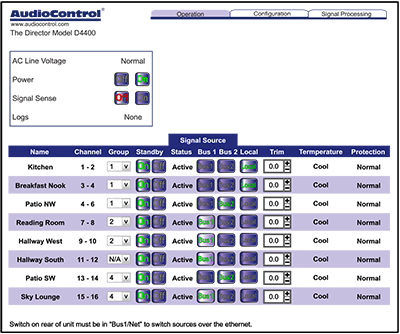 Ability to import and export settings for back-up and to create FastStart templates
Grouping of selected audio functions – muting and zone selection
DHCP as default setting – facilitate faster network settings, especially with multiple units
Network Device Discovery (UPnP)
Compatibility with Class A, B, & C networks
Volume Control Across All Zones
FEATURES – The Director Model D4400
Network DHCP Control Amplifier With Volume Control
16 Channels x 100 Watts at 8 Ohms (All Channels Driven)
16 Channels x 200 Watts at 4 Ohms (All Channels Driven)
Bridgeable for Increased Power Levels
Digital Signal Processing and Volume Control on All Zones
Ethernet Port for Status Monitoring, Source Switching and 12 Volt Trigger Control
Network Programmable Graphic & Parametric Equalization with User Memories
Assignable Names for Zones & Amplifier
Digital Signal Sense Across All Channels and Zones
Programmable Electronic Crossover for Local Subwoofer Applications
Subsonic Filter
AudioControl LightDrive Anti-Clipping Speaker Protection
Local & Dual Bus Inputs Plus Pass Thru
Compact 3U Rack Space • Includes Rack Brackets
Available in Brushed Stainless Steel or Espresso Black
Designed for Home and Commercial Installations
5 Year AudioControl Warranty
About AudioControl
AudioControl is a U.S. designer and manufacturer of the highest quality home theater processors and amplifiers, distributed audio amplifiers, car audio, signal processors and precise analysis products, celebrating nearly four decades of 'making good sound great'. The company's headquarters, including research and development, manufacturing, production, and training facilities continue to thrive in Seattle, Washington heart of the rainforest of the Pacific Northwest. For more information visit www.audiocontrol.com.
Press Notes
Press Contact
Chris Kane
425-775-8461
chris.k@audiocontrol.com
Copyright 2015 AudioControl. All rights reserved. AudioControl, The Director and the AudioControl logo are registered trademarks of AudioControl Inc. in the United States and/or other countries.