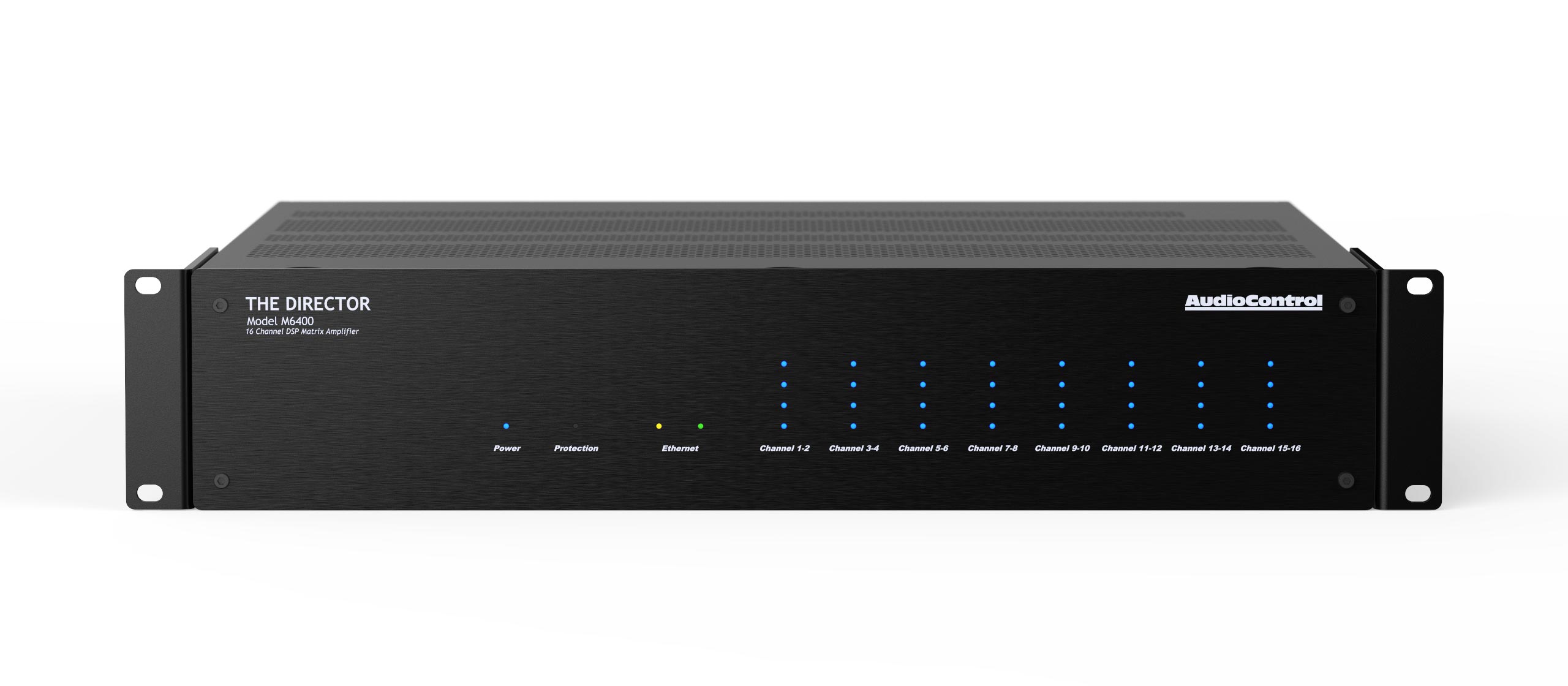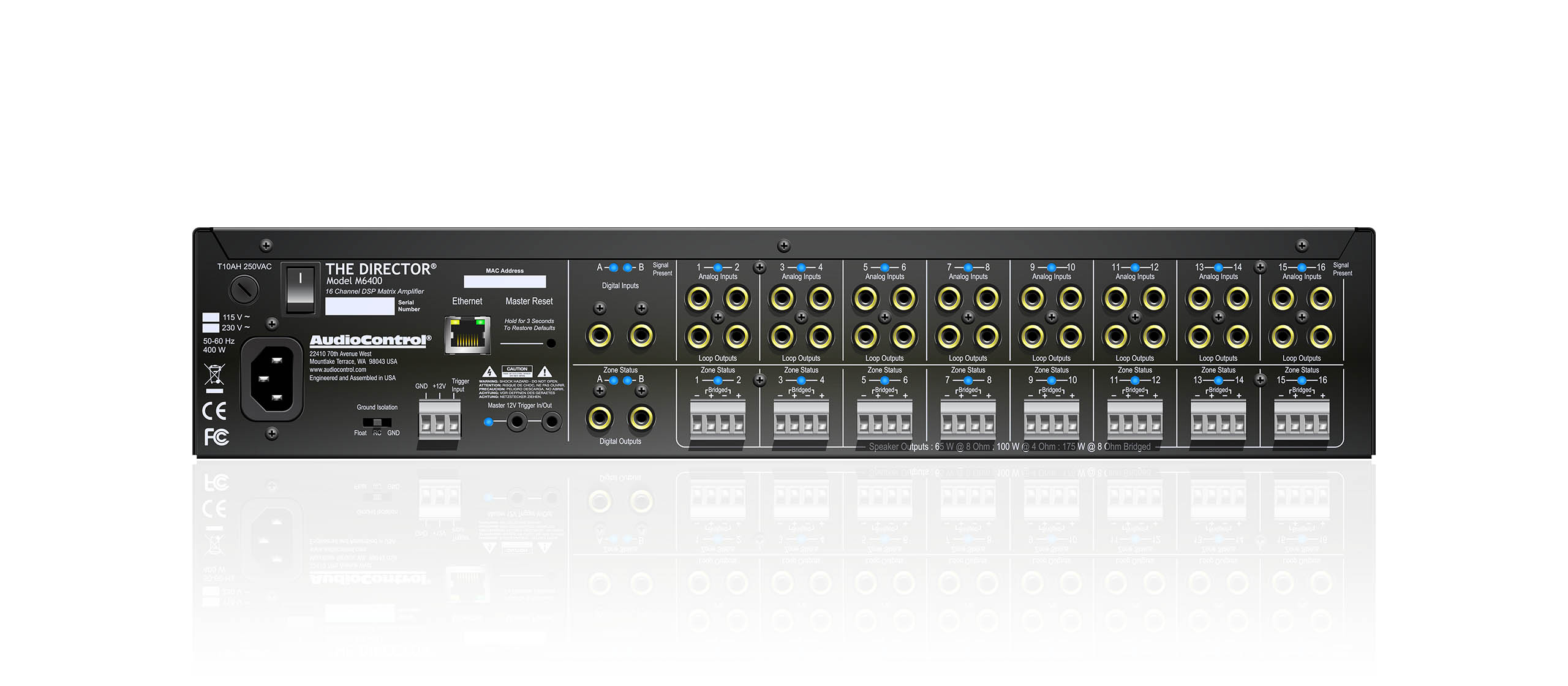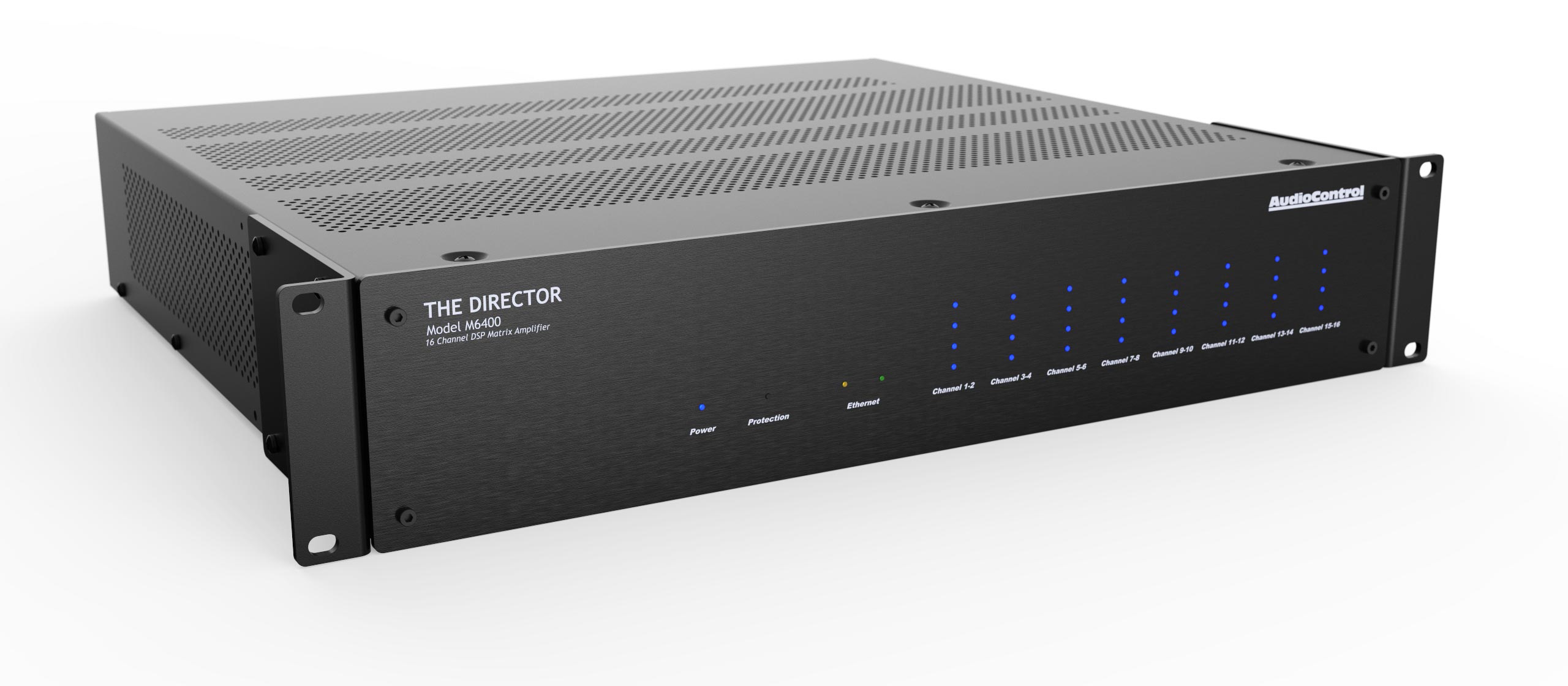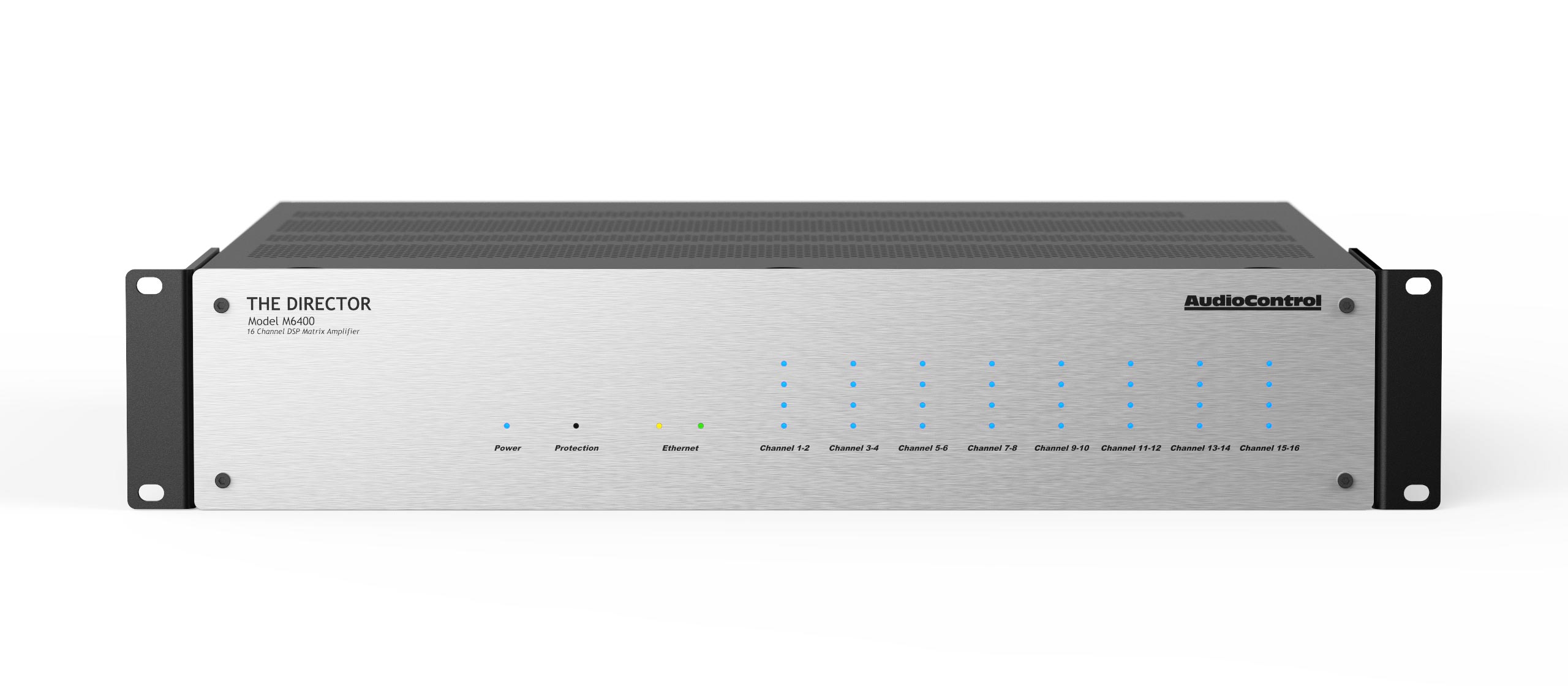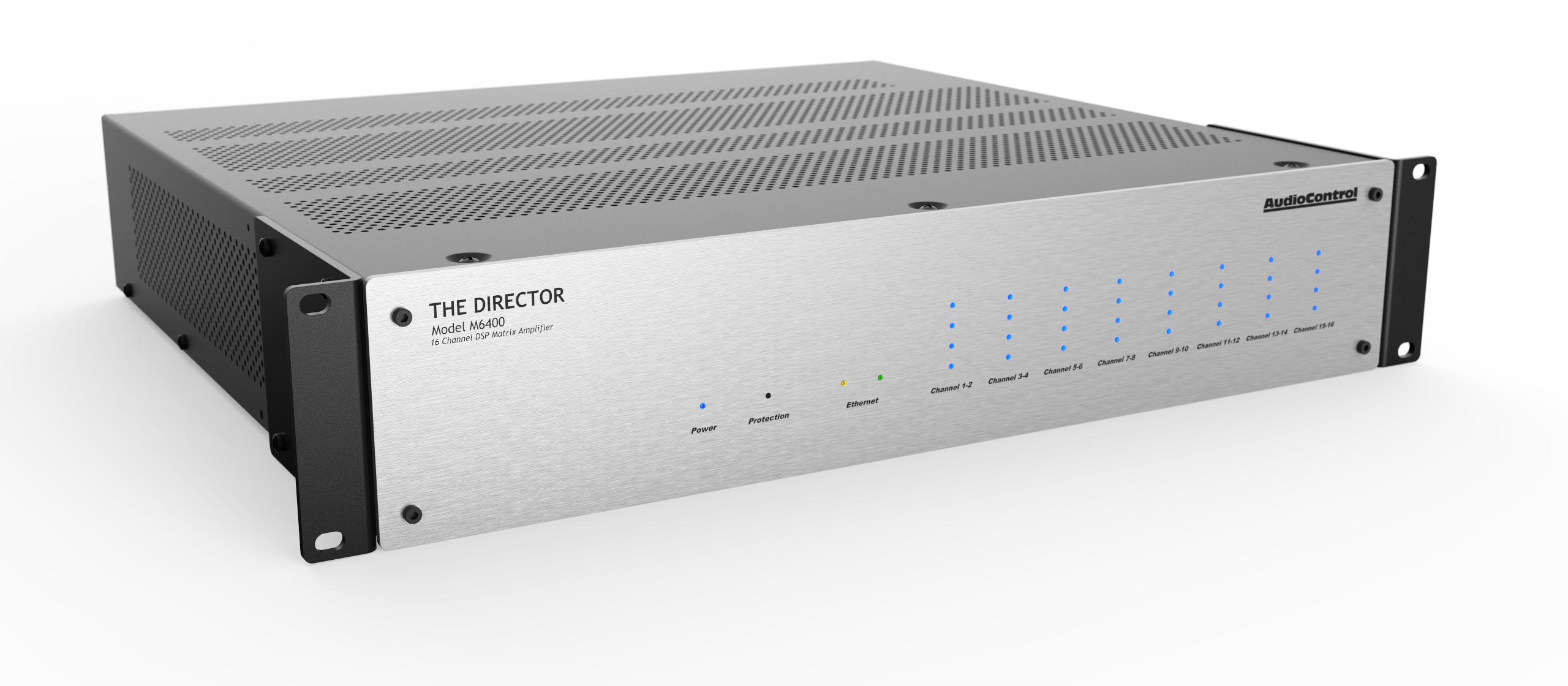 The Director
®

Model M6400
16 Channel Network Amplifier with Signal Matrix & Volume Control
The Director® Model M6400 Matrix amplifier from AudioControl is the first of its kind and one of the most intelligent, flexible amplifiers available for residential or commercial projects.
The Director® Model M6400, part of AudioControl's new Matrix M-Series builds upon the success of AudioControl's 'The Director' D-Series driving sixteen channels of high-power amplification in a compact 2U chassis that delivers 65 watts per channel at 8 Ohms, 100 watts per channel at 4 Ohms and 175 watts at 8 Ohm bridged, all channels driven.
Featuring a powerful on-board DSP, The Director Model® M6400 has the benefit of operating either as a standalone matrix-amplifier or as part of a 3rd party control system from companies including Crestron, Savant or Control 4.
The Model M6400 is available in brushed aluminum or black finish and is designed, engineered and manufactured in the rainforest of the Northwest somewhere North of Seattle.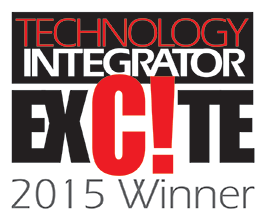 Power and Control at your Fingertips
The M6400 features on-board digital signal processing, graphic and parametric equalization by zone, network monitoring, and programming plus the addition of volume control, channel/zone grouping and zone audio presets. It also allows individual channel and zone selection via standard TCIP, the ability to bridge into low impedances while delivering incredible power and AudioControl's legendary audio performance.
The matrixing capabilities of the Director M series allow any of eight analog or two digital inputs to be routed to any zone output. The Director Model M6400 includes two digital SPDIF inputs plus two SPDIF outputs that are included in the matrixing so that any one of the input sources can be routed through the digital outputs. These digital outputs can be connected to Director M series digital inputs so that multiple amplifiers can receive any signal from any inputs from any of the amplifiers.
Speaker Optimization Profiles
AudioControl has partnered with a growing number of prominent architectural loudspeaker manufacturers to implement speaker performance profiles directly accessible from The Director® M Series onboard DSP. Each speaker manufacturer has provided critical performance data to AudioControl, enabling tailored profiles to be created and stored in software form. Factoring in the individual room acoustics for each home, these speaker profiles achieve an important step in providing the custom integrator the tools to deliver a premium entertainment experience by calibrating systems for their clients.
AUDIOCONTROL SOUND PARTNERS
TM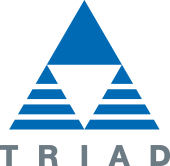 FEATURES
Network DHCP Signal Matrix Amplifier With Volume Control
16 Channels x 65 Watts at 8 Ohms (All Channels Driven)
16 Channels x 100 Watts at 4 Ohms (All Channels Driven)
Bridgeable to 175 Watts of Bridged Power
Digital Signal Processing (DSP) Performance
Ethernet Port for Status Monitoring, Source Switching and 12 Volt Trigger Control
Built in Matrix Delivering Analog or two digital inputs to be routed to any zone output on single or multiple amplifiers
Network Programmable Graphic & Parametric Equalization with User Memories
Assignable Names for All Zones & Amplifier
Digital Signal Sense
Programmable Electronic Crossover for Local Subwoofer Applications • Subsonic Filter
AudioControl LightDrive Anti-Clipping Speaker Protection
Local Inputs with Pass Thru / Loop Outputs
Dual Digital Audio Bus Inputs
Compact 2U Rack Space (Includes Rack Mount Brackets)
Available in Brushed Stainless Steel or Expresso Black
Home and Commercial Installations
INPUTS
Inputs: 8 Stereo Local Inputs, 2 Digital S/PDIF Inputs
Input Sensitivity: 1 Vrms for full output, level at maximum
Input Gain: 27 dB
OUTPUTS
Amplifier Channels: 16
Power Output (8Ω): 65W per channel
Power Output (4Ω): 100W per channel
Power Output (Bridged Mono): 175W
Minimum Speaker Load: 4Ω
Preamp Audio Outputs: 8 Stereo Loop Outputs, 2 Digital S/PDIF Outputs
PERFORMANCE
Crosstalk: > 80 dB @ 1 kHz
Damping Factor: >200
Signal to Noise: >95 dB, A-wtd, ref full output
Crosstalk: >80 dB @ 1 kHz
DAC Specifications: 32 – 96 kHz sample rate, 16/24 bit depth
CONTROL
Remote Power Trigger: +12 VDC or Dry Contact Closure
Network Connection/Protocol: 10BaseT Ethernet TCP/IP
Communication Protocol: HTTP or Telnet
GENERAL
Power Consumption (Stand By): <2W
Power Consumption (Idle): 35W
Power Consumption (loud listening level): 220W
Power Consumption (maximum): 1300W
BTU/Hour Heat Dissipation (Standby): 6.8
BTU/Hour Heat Dissipation (Idle): 121
BTU/Hour Heat Dissipation (loud listening level): 314
BTU/Hour Heat Dissipation (maximum): 890
Protection: clipping, short circuit, thermal, ultrasonic, DC offset, stable into reactive or mismatched loads
WEIGHTS & DIMENSIONS
Dimensions: 17" W x 15.5" D x 3.5" H (2U)
Weight: 16.0lbs (7.26 kg)
IN THE BOX: The Director Model M6400, Speaker Connectors, Remote Connector, Power Cord, Manual, Warranty