AudioControl's First Digital Signal Processor with Signal Delay, 21 Discrete Bands of Equalization & Patent Pending AccuBASS™ Designed to Bring Ultimate Control & Great Sound to Factory OEM Systems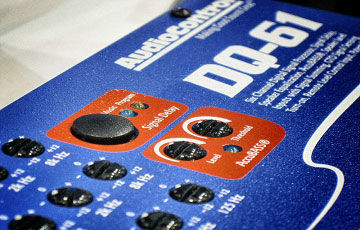 Seattle, WA. September 2nd, 2013 – AudioControl announced today that it has launched its new DQ-61 Digital Signal Processor with Signal Delay. The DQ-61 is the first in AudioControl's product line-up to include the AudioControl Signal Delay platform that allows the user to align their listening soundstage position between the output of the left and right speakers, plus seamlessly blend in the subwoofer to the listening environment. The introduction of AudioControl Signal Delay creates a new level of audio performance dramatically improving the in-car entertainment experience across all OEM factory installed systems and upgrades.
AudioControl engineers based in the U.S.A. designed the DQ-61 to be an extraordinary processor.  It is equipped with a number of installer friendly features that simplify the overall OEM installation and calibration process making the DQ-61 one of the cleanest and simplest ways to use Signal Delay to improve OEM factory radios. As well as AudioControl Signal Delay, twenty-one discrete bands of equalization control provide users with impressive processing to accurately "tune" their audio systems. In addition, the DQ-61 is the latest AudioControl processor to incorporate AudioControl AccuBASS™. This patent pending circuit automatically corrects for the bass roll-off that is common with many factory-installed audio systems. The AudioControl DQ-61 truly lets music enthusiasts "take control" of their sound and achieve an amazing entertainment experience.
Sean Reid, National Sales Manager at AudioControl commented "It is a fact that factory installed audio in today's cars often lack the sound performance that music lovers want to experience in their car. The trend is for having great sound in the car whether listening to music or spoken word and sadly all too often OEM factory systems fall short of delivering this experience"
Reid added "We had a great chance to showcase the processing power of the DQ-61 in our 2012 Maserati GranTurismo MC show car at MERA's Knowledgefest to some of the best in the business.  It was clear by their reactions that we nailed it with this product and that this was going to be their new 'go-to' OEM Integration Processor for consumers looking to upgrade their factory system"
DQ-61 Product Features

User friendly Signal Delay enhances the acoustical alignment between the left and right channels plus the front and subwoofer channels

Individual equalization controls for the front, rear and subwoofer channels provide simple yet precise system tuning

Six channels of active speaker level inputs – accepts up to 400 watts per channel

AccuBASS™- AudioControl's patented pending processing to correct for the bass roll-off in factory source units

ACR-3 Dash Control Remote allows for control of the subwoofer level plus processing bypass.

Available in AudioControl Espresso Black or Cascade Blue

Internal Channel Summing – Easy interface with factory installed amplifiers with built-in crossovers

GTO™ (Great Turn-On) Circuit – Powers up the DQ-61 when it detects signal on the main speaker level input

Discrete Input and output level controls

The DQ-61 will be available for shipping worldwide in September at suggested retail price of $399.99

Press review samples are available direct from AudioControl's team in the rainforest!
Like all AudioControl signal processors, the DQ-61 is manufactured in the U.S. and is backed by our industry leading, five-year parts and labor warranty, when installed by authorized dealers
About AudioControl
AudioControl is a U.S. based designer and manufacturer of the highest quality home theater processors, theater amplifiers, distributed audio amplifiers, car audio signal processors and precise analysis products, celebrating nearly four decades of 'making good sound great'. The company's headquarters, including research and development, manufacturing, production, and training facilities continue to thrive in Seattle, Washington heart of the rainforest of the Pacific Northwest.
AudioControl products are manufactured in the U.S.A. and come with AudioControl's legendary reliability and warranty service. For more information visit www.audiocontrol.com.
Press Notes
Press Contact:
AudioControl: Chris Kane   +1 425-775-8461     chris.k@audiocontrol.com
Copyright 2013 AudioControl. All rights reserved. AudioControl and the AudioControl logo are registered trademarks of AudioControl Inc. in the United States and/or other countries.