Seattle, WA – AudioControl, the industry leading manufacturer of high performance car audio signal processors and amplification, announced they will debut the new AudioControl SA4100i direct connect iOS microphone plus the AudioControl Mobile Tools app at their upcoming training seminars at KnowledgeFest 2015.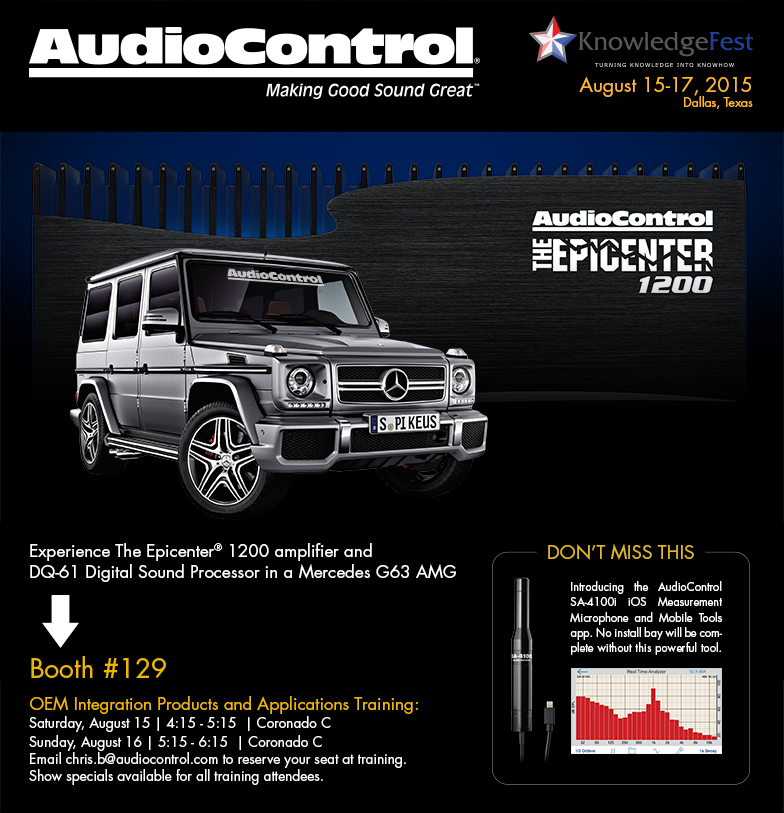 AudioControl Training will be held in the Coronado "C" meeting room and scheduled on Saturday August 15th at 4:15pm and Sunday August 16th at 5:15pm. Those interested in attending can contact Chris Bennett at chris.b@audiocontrol.com or register directly at the Knowledgefest website. AudioControl's training seminar at KnowledgeFest is already receiving a lot of industry attention and seats are already being booked by attendees. Early registration is recommended.
About AudioControl
AudioControl is a U.S. designer and manufacturer of the highest quality home theater processors and amplifiers, distributed audio amplifiers, car audio, signal processors and precise analysis products, celebrating nearly four decades of 'making good sound great'. The company's headquarters, including research and development, manufacturing, production, and training facilities continue to thrive in Seattle, Washington heart of the rainforest of the Pacific Northwest.
Press Contact
AudioControl: Chris Kane 425-775-8461
chris.k@audiocontrol.com
Copyright 2015 AudioControl. All rights reserved. AudioControl and the AudioControl logo are registered trademarks of AudioControl Inc. in the United States and/or other countries.